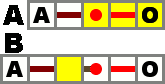 A NOT gate inverts the signal: if input was on, output will be off and vice versa.
NOT gate is one of the fundamental gates in Minecraft, the other two being NOR and an unisolated OR (which is made by simply connecting two wires).
A NOT gate has only 1 tick of delay.
NOT gate is very simple to build, and only requires one redstone torch and one Block.
The inputs for the NOR gate do not have to be redstone, you could have repeaters or even buttons up against the block that is acting as your central point.